Chapter 85
Rats in the attic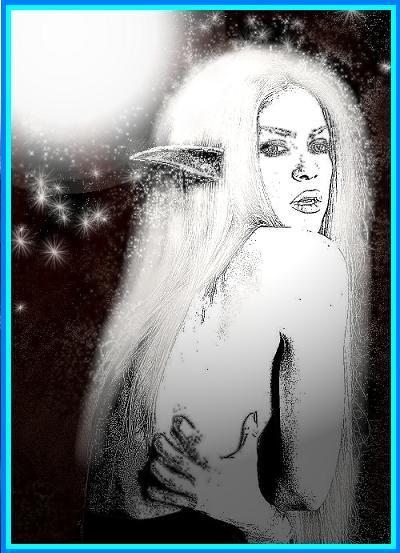 Light of the sky clapped his hands. Lionette watched as his sister stepped out of the darkness in the corner. It seemed as though she had just materialized from the shadows but Lionette surmised there were many a secret passage in this fortress that only Light of the sky and his sister knew about.
"Escort Lennut Nonrut to the west wing and put her in the tower room. If she tries to escape kill her." Light of the sky ordered. His sister silently stepped closer and drew a long slim dagger from under her flowing robe and held out motioning too Lennut to walk towards the long hallway.
"Lionette, follow my sister, she will give you a room in the tower also." Light of the sky said. He turned away and continued his talk with Dahnor Swagg. She knew not to ask any questions at this point. She was living on the edge of a razor and couldn't afford to try this mans patients.
The three women walked down the hallway quietly. After a while Lennut spoke. "Why have I been brought here? I want to go home immediately. I have wealth and resources, I can pay for my freedom." She said nervously.
Sister stopped and turned towards Lennut. "You have nothing anymore. All you possess now is your pathetic life and that is placed on the chopping block everyday as long as you live under my brother's protection. You live only to serve his every whim." She said calmly and in a voice so angelic that it took both Lennut and Lionette by surprise.
It was also the first really good look Lionette had at Sister. She was very beautiful in an exotic way. Like a winter goddess of legend she was long and graceful. Her hair and skin were white as were her eyes except for the long black slit like pupil common to Feloids. Her ears were longer and pointed back against her head giving her a sleek look as if she were in constant motion.
They continued on in silence through a large door until they reached the rooms in the tower. "This will be your room Lionette. I was told that you may be valuable so you will be safe here." Sister said.
Lionette looked in the room. It was nicely furnished yet still fairly primitive by her standards. There was also a cat girl kneeling in the room. The girl looked up at Sister and for the first time she noticed the girl twitched her ears and eyebrows in a similar fashion to the girl that saved her in the forest after she was sold. The girl must have thought Lionette was a cat girl slave as well and knew the code. It struck Lionette that she had seen these twitches and other odd behavior in other cat girls her entire life, even Timtam did it, but it was thought to be signs of nervousness or stress. It had been a secret code they used that no one had ever thought they were capable of developing. The cat girl was signaling Sister who seemed to respond. There must be some sort of bond between Sister and the cat girls on this planet. It would make sense that being the only woman here she would bond in some way with these slave girls.
"The girl is Seleen, she will watch over you. If you try to escape we will punish you and kill her. Her life is now in your hands." Sister said.
"I will do as I am told." Lionette responded simply.
Sister opened the door across the hall. It was larger than Lionette's room by double.
"This will be your room Lennut. It is furnished as you can see but there is only the one servant for both of you. If you try to escape she will be killed. Do you understand?" Sister asked.
Lennut, still in shock simply nodded yes.
"I'm leaving you now. The girl Seleen will take care of your needs, she will bring you your meals later this evening and remember any attempt at escape and you will be punished and she will be killed." Sister said. She walked back down the hallway and locked the door on her way out.
"What are we to do?" Lennut asked Lionette.
Lionette looked at Lennut. "They say you helped to invent Mothers Milk." Lionette said.
"It's one of the drugs I've helped to develop." She replied.
Lionette pulled up her sleeve to display her injection marks. "Because of that invention we're both unable to leave this place. I have one advantage over you though…soon it will kill me but they'll make sure you live as long as they can so you can continue to make the drug for them." Lionette said smiling. The drug was still keeping her happy even though she knew it was killing her.
"What if I could get you clean? What would you do if you didn't need it anymore, would you help me then?" Lennut leaned close and asked.
"There is no cure. It's a death sentence." Lionette protested.
"Oh really? Then why do you think my friends wanted to get rid of me? I'll tell you why. I have invented a cure to the Mothers Milk. If you help me get the ingredients I need I can cure you for certain." Lennut said smiling back.
"Light of the sky would see the difference in me. He would know something was up." Lionette said becoming interested. She was allowing herself to have hope.
"If the batch is good it will cleanse your body of the drug and it also makes you immune to its affects from then on out." Lennut added sensing Lionette's interest.
"If I did help you find the ingredients and you cured me what would you want in return?" Lionette asked.
"I want to leave here as soon as I can. So tell me what you could do to make that happen girl." Lennut asked.
Lionette didn't want to give this woman too much information about who she was. "In a past life I was considered to be quite a skilled warrior. I can also pilot a ship…as long as I'm free of this drug." She said.
"That's good, that's very good." Lennut took Lionette by the hand and lead her into her room leaving Seleen in Lionette's room. She sat her down in a chair and then went back and closed the door. "I take it that the white haired man wants me to manufacture the drug for him to sell. When I agree to do it I should be able to get most of the things I need for the antidote as well. I'll try to have him get everything but some ingredients may cause him to become suspicious so I have to be careful." Lennut said leaning close to Lionette.
"I'll help you Lennut but we have to be quick. Our host, Light of the sky, is going to try and sell me to my Clan. I can't go back the way I am now, a drug addicted whore. I'd have killed myself long ago but I live only for the gift of Mothers Milk. It's my sole purpose of living." Lionette said.
"I know it is dear. That's why I developed the cure. The drug was a failure and wound up being too powerful. I wanted it to make the girls happy with their lives but it only destroys them. I needed to make things right. I needed to fix my mistake but there was just too much money in it the way it was. I was blinded by greed and lost my code of ethics." Lennut said.
"Okay, lets say that you can get me clean. What do we do next?" Lionette asked.
"It's a simple logic problem. Once you're clean we obtain our freedom and then locate a ship to leave the planet. All we need is to do is figure out a way to achieve each step in the plan." Lennut said.
"You make it sound easy." Lionette said. The drug was wearing off and she was starting to get the shakes.
"We'll need to make a list of our resources. We need to figure out if we have any allies here. Is there anyone that you can think of that might be willing to help us?" Lennut asked.
Just then the door to Lennut's room opened. The two women wheeled around to see Sister standing in the doorway accompanied by Seleen. Sister stepped into the room holding a small pistol.
"So you want to try to escape do you?" Sister said.
Lionette sunk down in her chair. Her hopes of escape had just disappeared.
Lennut stood up defiantly. "To live like this is intolerable. Any sane person would do whatever they had to escape this nightmare." She said.
"Your absolutely right." Sister put the pistol away and pulled Seleen into the room and shut the door. "You'll be needing our help then."
"How many?" Bronski said spitting out his cigar.
"Over eight hundred." Matt answered.
Bronski had come out of the ship to find out who all of these half starved people were.
"Okay…fine, what else?" Bronski asked knowing it was going to get worse.
"The crew is still on board. They control the engine room but at least they can't fly the ship from down there. The prisoners guess there's about forty or more holed up in there. It's a stand off right now. The Rebels can't move the ship and neither can the Imperial crewmen in the engine room. Both sides have blasters but they can't fight it out because the risk of damaging the engines and fuel supplies in a close quarters battle is too great." Matt said frustrated.
"We can't leave 'em here Matt." Bronski said referring to the prisoners.
"I never said that." Matt replied angrily. That was something Zekk would have done he thought to himself.
"Hey take it easy pal, I just wanted to make sure we were on the same page." Bronski snapped back.
"I'm sorry…it's just that we need too find Pep." Matt said.
"Can we cut off the air supply to the engine room?" Bronski asked coldly.
"No, each section of this ship has its own life support equipment, it's not centralized like on smaller ships." One of the prisoners said.
"You some kind of engineer or something?" Bronski asked.
"Yeah, something like that." The woman said. Bronski saw her for the first time up close as she pushed her way through the crowd of prisoners.
She was in her late thirties and was tall for a woman. Her hair was dark brown with tiny streaks of gray mixed in. Bronski was fixated on her bright blue eyes and stern confident look one her face.
"What's your name honey?" Bronski asked smiling.
"Well it sure the hell isn't honey, baldy." She said grinning. "Pidge. Athonia Pidge." She finally responded.
"What makes you an expert about Life support equipment Pidge?" Bronski asked.
"I was an engineer on a spice freighter for eight years. I guess that gives me a better idea about it than either of you two." She said putting her hands on her hips.
"I guess it does. You got any ideas how we can flush them out of the engine room?" Matt asked.
"It's a tough one. The engine room on this type freighter can be jettisoned in case of emergency…a safety feature. It's like a completely separate unit. That way the ship and cargo will survive if they would have to jettison the engines in an emergency. When those Imperial bastards ran in there they sure knew what they were doing." Pidge said.
"We'll have to launch an assault from the outside by using the scout ship, we can make an assault from there. Are there any vacuum suits on board?" Matt asked.
"A ship this big would have a bunch for doing maintenance while the ship is in space. They'd be in the maintenance store room most likely." Pidge said looking at Bronski.
"Okay then, we'll attack from outside by blowing off the airlocks. That should get rid of the bastards. Then we can get you on your way." Bronski said.
"You ain't coming with us?" Pidge asked.
"No we have a previous engagement somewhere else." Matt said.
"Gather up anyone who can help us set charges and bring them to the scout ship." Matt said to the fake Captain. "You, Pidge, find those vacuum suits and bring them to the scout ship too. Buck and me will get the explosives we need from the ships armory and meet you there." Matt said.
"Okay lets move out people, you can bet your ass those Imperials are trying to come up with a plan to kill all of us just like we're going to do to them." Bronski said making sure they all knew this was a race against time.
Pidge ran off down the hallway followed by a few of the prisoners that were still in good condition. The fake Captain started to select other able bodied Rebels to aid in the attack. Matt and Buck went down to the ship's armory. There they found some explosives used for clearing away debris if the ship was ever rammed and to destroy any cargo that might be stolen by pirates or Rebels. After a few minutes everyone had made their way back too the scout ship in the aft cargo bay.
"We have twenty Rebel troopers suited up and briefed on the plan. Did you find any explosives?" The Rebel leader asked.
"Not a lot but enough to do the trick." Matt answered.
"I made sure there were two suits left for you guys." Pidge said. "You want any help putting your suit on baldy?" she asked Bronski with a sly little smirk.
"If this works you can help me take 'em off blue eyes." He replied.
"Okay lover boy get inside, you can whisper your sweet nothings later, if those pricks don't blow your head off first." Matt said hurrying Buck into the ship.
The Rebels cleared the cargo bay and the scout ship took off. Matt swung the little ship around to the back of the huge transport and located the largest access hatch on the back of the ship. The hatch looked to be about twenty feet by twenty feet and was used for replacing engine parts.
Bronski fired the grappling claw at the rear hull of the transport grabbing onto parts of the outside apparatus. The winch pulled the scout close and locked itself down to the hull.
"Let's move. It won't take long before they figure out what we're trying to do out here." Matt said as he moved the Rebels towards the hatch. They all put their helmets on and locked them down tight. Bronski opened the hatch slowly to allow the air to escape a little at a time so they wouldn't be sucked out.
Bronski stepped out onto the side of the transports engine compartment. The attitude of the scout ship and the way it was docked made the transports outer hull the floor as compared to the scout ship. Two of the Rebels followed carrying the explosive charges.
"Put them all on that corner. It should be enough to buckle the door since its not armored." Bronski ordered.
Matt watched as the rest of the Rebels left the ship to get ready to set their charges. The idea was to blast open the outside door and then rush in and destroy the inner door opening it to the vacuum of space and killing the unprepared Imperial troops inside.
"Hold it!" Bronski yelled. Through the out side access hatch window he saw the inner door open. Four storm troopers suddenly appeared in the causeway between the two doors and approach the outer door they were preparing to blow open. Neither he nor any of the Rebel troops outside had weapons. The storm troopers made it to the outer door hatch and started to open it. Bronski knew the only thing they could do is detonate the explosive now. It would blow open the hatch but the explosion would most likely kill all the Rebels including himself.
"Blow it!" he yelled at the young Rebel that was planting the charges. The soldier looked at Bronski and realized what needed to be done but he included one action more. When the door opened far enough he pushed the explosives through the opening that way the explosion would be contained inside the hatchway. One of the storm troopers grabbed the pack setting off a deadly game of tug of war just inside the opening. Bronski saw the young Rebel soldier look over his shoulder and smile just before he detonated the device.
The soldier and the two storm troopers were killed instantly spraying the causeway a vivid shade of red. The blast had also blown open the door inside and tore half of the one outside off its tracks leaving a gaping hole where the precious oxygen inside was rushing out. Buck found himself holding on to one of the outside fixtures as were some of the other men. He saw two other Rebels; their vacuum suits torn open and streaming globules of blood from their fatal wounds as they floated off into the inky blackness of space.
Pep woke up startled. For a moment she had forgotten where she was. She had fallen asleep in the same bunk she had been shackled too not so long ago. She climbed out of the bunk and looked down the hallway towards the cockpit. Everything on board was quiet and it almost felt like she was alone on the ship. She wrapped a blanket around her shoulders and crept up too the cockpit to see who was piloting the ship. Turning the corner she saw it was Destriss. He didn't notice her at first and looked over at her surprised. "Hello, did you get some sleep?" he asked smiling slightly.
"Yes, I feel better now." She said politely. All she knew about Destriss was that Mykala knew him and he was a relative of Lionette. He was also a Royal and they never were good to be around.
"Why don't you sit down, I could use some company if you're going to stay up." He said.
Pep looked around for Mykala but she was nowhere to be seen. "Where's Mykala?" Pep asked.
"She's sleeping." Destriss answered as he focused on the information he was putting into the controls. She wanted to walk away but she couldn't think of a good excuse to just leave. Pep slid into the seat next to Destriss slowly. She wasn't sure why a Royal would want her to sit next to him.
"I wanted to thank you for saving Mykala and myself. I really didn't have a way of escaping from that planet and had meant to kill myself after…sending Mykala home." He hesitated to say he was going to kill Mykala so she could be transported back home.
"It was the Force." She said being careful not to make eye contact.
"I don't understand." He said.
Pep hesitated. "I had a vision about Mykala. I knew I had to help her. I didn't have a choice, I just wanted to go home." Pep said.
"Do I make you uncomfortable?" Destriss asked Pep.
Pep shrugged her shoulders.
"Our people certainly have strange ways." He commented. "You have all these incredible powers. You could snuff out my life with just a thought and yet because of our culture a person of my class still makes you feel intimidated." He laughed to himself.
"It isn't funny." Pep said irritated.
"No it's not. I was laughing at the absurdity of our ways. We need to change our culture Pep. We need to try and make things right. The Royals should help the cat girls, raise them up to be free people and end this barbaric system. Then they should be allowed to live their lives how they want to." He said.
"Why do you even care? Are you trying to impress Mykala by saying these things?" Pep asked bluntly. It was clear now how little trust Pep had towards Royals.
"No Pep, a few of us Royals do believe we need to change our ways. The more contact we have with outsiders the more we see that other systems have better ways of doing things. The outworlders look down on us because we have a slave race. We are criticized for our ways and we find it harder and harder to defend them." Destriss answered.
"I've heard speeches like this all my life and nothing ever changes, it's all just talk to make your kind feel better about themselves." Pep said.
"You're right for the most part. But I've had a slightly different upbringing. After I was born my mother died. Our father bought a cat girl nurse to raise us since he was away so much. As children we didn't see a difference between that cat girl and our real mother, we never knew there was a difference. When we got older we were sent to a school away from home. We soon found out that our father sold our nanny while we were gone and we never saw her again. We were both devastated. It was as though he sold our mother.
I think he saw how much we loved her and so he had to get rid of her. He was afraid other Royals would find out that we cared about a slave that much. We both looked for her but we never found her." he said.
Pep looked up at his face and saw he had genuine tears of sorrow in his eyes.
"I didn't know." Pep said. She felt sorry for him.
"It's hard to support a system causes that kind of pain? She was our mother and just because someone hundreds of years ago said you're kind is less important than mine we lost our mother. Do you see why I want things to change?" Destriss said.
"I think I believe you Destriss, I think I could trust someone like you." Pep said. She was surprised to hear the words coming from her own mouth. "You sound almost human." Pep was thinking of the way Matt talked.
"Some of them are quite interesting aren't they?" Destriss remarked.
"I like mine a lot." Pep said smiling at Destriss for the first time.
The secret transmitter code indicator light began to flicker suddenly.
"Look." Pep said.
"I never would have thought we would find any allies this deep in Imperial space." Destriss added as he tried desperately too lock onto the signal.
"Can you tell where it's coming from?" Pep asked as she watched Destriss manipulating the controls.
"It seems to be coming from the third moon orbiting the large planet in this solar system. The signal is weak so it's most likely a small out post or another ship." Destriss said.
"How long till we can get there?" Pep's voice denoted urgency. She knew the quicker they could get rid of this ship the better.
"I don't want to make any sudden changes in our course. The Imperial patrols look for hasty changes like that on their scanning equipment. It just looks suspicious. I'm going to have to make it a gradual course correction." He said.
Pep looked at him still waiting for a straight answer.
"Sorry. We'll arrive there sometime tonight." He said smiling.
If you have enjoyed these stories please check out my first all original book series at Amazon.com. The title is Beyond the Crystal Heaven.
Once again thank you for your support.
Last Updated (Tuesday, 10 September 2013 02:56)